Planungsprozesse für zirkuläre Stoffkreisläufe in der Immobilienwirtschaft
Digitale Masterclass: Sustainable Real Estate
/
Uhrzeit
17:00 - 18:00 Uhr
Konventionelle Planungsprozesse in der Immobilienwirtschaft sind nicht darauf ausgerichtet einen zirkulären Stoffkreislauf zu etablieren.
Die unterschiedlichen Beteiligten im Wertschöpfungsprozess, von der Konzeption über die Planung bis zum Bau und Betrieb sollten dazu viel enger kooperieren.
Wie könnten solche Kooperationen aussehen und wie kann man zirkuläre Stoffprozesse in der Bau- und Immobilienwirtschaft besser etablieren?
Begrüßung durch unsere Programm Manager
Keynote : "Planungsprozesse für zirkuläre Stoffkreisläufe in der Immobilienwirtschaft" mit Univ.-Prof. Dr.-Ing. Konrad Nübel, Lehrstuhl für Bauprozessmanagement und Immobilienentwicklung, TUM School of Engineering and Design
Diese Masterclass gibt einen Einblick, wie konventionelle Planungsprozesse üblicherweise ablaufen und was Lösungsansätze für mehr Zirkularität sein können.
Treffen Sie unsere Referenten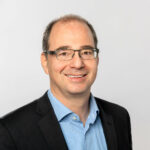 Univ.-Prof. Dr.-Ing. Konrad Nübel
Lehrstuhl für Bauprozessmanagement und Immobilienentwicklung, TUM School of Engineering and Design