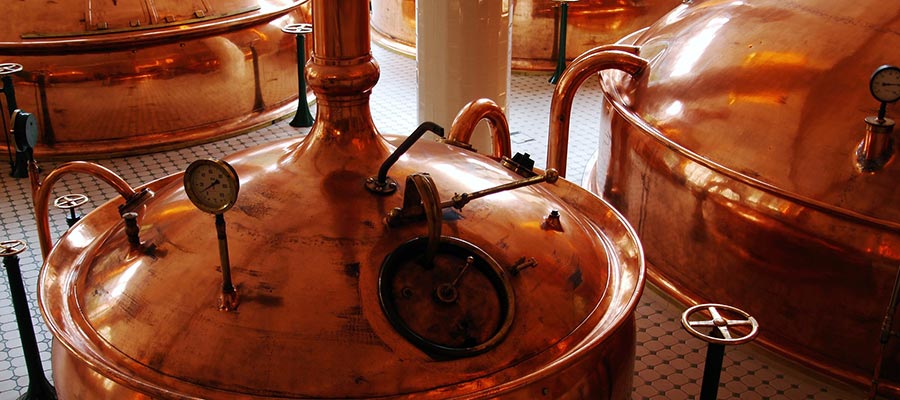 The Technical University of Munich (TUM), with its Campus in Weihenstephan, can look back on a tradition of more than 150 years: The location is considered the "cradle of the art of brewing" – and one of the first training centers for brewers worldwide. Dr.-Ing. Martina Gastl leads the Research Center Weihenstephan for Brewing and Food Quality at TUM. She helped to develop the "Brauer Cursus Weihenstephan", which is offered as a Certificate Program at the TUM Institute for LifeLong Learning. The Brauer Cursus combines the long German tradition of brewing with the latest scientific findings in a practice-oriented program.
You have been working at TUM for almost 20 years and are involved in research in the field of brewing and beverage technology. Is brewing now an art, a craft – or a science in itself?
Dr.-Ing. Martina Gastl: With a history of more than 6,000 years, beer is one of the oldest biotechnologically produced products known to mankind. Brewing is therefore both a craft and a scientific discipline. But brewing is certainly also an art. We work with natural products: It takes a lot of know-how to compensate for seasonal differences in malt and hops and to be able to serve the consumer a beer that always has the same taste and is of consistently high quality. The brewing of beer is also very creative, which is reflected in the ongoing craft beer movement. Ultimately, brewers are also like composers who play the keyboard of raw materials and thus create an infinite variety of products.
So, you could say that for me, the field of brewing and beverage technology is first and foremost a successful symbiosis of science and practice. We also want to make this clear in our executive and professional education programs.
Weihenstephan is a place with a great tradition when it comes to brewing and beverage technology. Can you explain how this came about and how TUM is connected with the location?
Dr.-Ing. Martina Gastl: We can look back on a tradition of over 150 years: In 1803, Kurfürst Max IV Josef ordered an agricultural school to be set up in the Benedictine Monastery of Weihenstephan. Since a brewery and a distillery belonged to the monastery, "agricultural technology" was also taught here. In 1865, Dr. Carl Lintner founded the first international course, and in 1895 Weihenstephan was named the "Academy for Agriculture and Brewing". So from the very beginning, the structured transfer of knowledge in the field of brewing and malting was closely associated with Weihenstephan – as one of the first locations worldwide. We are very proud of this. In 1930, Weihenstephan was incorporated into the Technical University of Munich, and in the following 50 years, it was first expanded as the "Green Center", later joined by the Center for Science in Food, Agriculture and Environment (-Wissenschaftszentrum für Ernährung, Landnutzung und Umwelt).
But the connection with practice has always been important as well: After the teaching and experimental brewery dating from 1906 could no longer be operated economically, a teaching and research brewery was created in the existing premises by 2006. Here it is possible to research basic principles as well as to design "new beers". This is today's Weihenstephan research brewery.
A new certificate program at TUM, which you played a leading role in developing, is called "Brauer Cursus Weihenstephan". What is it all about – and what tradition is connected with the title?
Dr.-Ing. Martina Gastl: In addition to being the "oldest brewery in the world," Weihenstephan also has a long-standing academic training program in brewing, which is why Weihenstephan is often called the "cradle of the art of brewing". The above-mentioned Dr. Carl Lintner founded his own "Brauer-Cursus" in 1865 with students from Germany and abroad. Thus, the name "Brauer Cursus Weihenstephan" holds, so to speak, the origin of the craft as well as academic education of the location. With it, we continue the tradition of Dr. Lintner and have created the first comprehensive introductory course in the science and technology of brewing.
Beginning with the raw materials, the course content covers all technological processing steps of malt and beer production. In addition to a deep understanding of classical brewing technology, the important areas of beer sensory analysis and beverage dispensing systems are also covered. The intensive practical part, which applies and deepens the knowledge, covers all necessary aspects from the production of beers to analytical monitoring.
In the teaching content, you particularly want to convey the combination of tradition with modern brewing. What do you mean by this?
Dr.-Ing. Martina Gastl: What began in 1865 as a brewing school has since evolved into modern university research and teaching department. Today, forward-looking technologies and methods for the brewing industry are developed at the Technical University of Munich in order to provide the industry with the right tools for the future. The courses of study, which have been successful for years, serve all management and design levels of breweries, beverage-producing companies, suppliers or mechanical engineering companies.
This also illustrates the breadth of the Brewing and Beverage Technology department. In the certificate program "Brauer Cursus Weihenstephan", our experienced lecturers impart fundamental knowledge paired with the practical requirements of modern brewing technology.
And finally: What do you see as the biggest misunderstanding when it comes to the malting and brewing process?
Dr.-Ing. Martina Gastl: I think one of the biggest – I prefer to call it challenges – is that many consumers often associate beer with a standard, industrially produced "Lager" or "Helles" – uniform, expressionless beers that are really only distinguished by the label. The potential of the product and its sensory diversity is thus far from exhausted.
Many brewers are great masters of their craft and create a variety of different beers from just four natural raw materials. Worldwide, there are about 200 different hop varieties and well over 50 commercially available malt types. Last but not least, the yeast strain used opens up an enormous spectrum of flavors. In Germany alone, more than 5,500 different beers are produced from over 1,350 German breweries. So you could enjoy a different beer every day for over 15 years without drinking any of them twice.
We want to pass on this craftsmanship – brewing a variety of high-quality beers from only a few raw materials, based on scientific and technological expertise – as part of our "Brauer Cursus Weihenstephan".