Digital Transformation for Sustainability
am TUM Campus Heilbronn
German

Heilbronn

On Campus

December 2023

8 days

5,890 €, Discounts available
Digitale Werkzeuge und Innovationen für das Umweltmanagement
ESG, LkSG, ESPR, CEAP, PEF, and DPP – these are just some of the acronyms that companies have to face in the course of their sustainability strategy and the environmental impacts of their individual value chain. The requirements and specifications are constantly increasing – but where to start, how to approach and implement them? And above all, how can the company's digital transformation be advanced and the necessary resources for this "double transformation" be made available at the same time?
The intensive course "Digital Transformation for Sustainability – Digital Tools and Innovations for Environmental Management" offers participants the opportunity to get to know important aspects and methods from both fields (sustainability and digitalization), to establish cross-connections between the two disciplines and to identify possibilities as well as measures to meet the legal requirements and, if necessary, to go beyond them.
Why you should choose this program?
The objective of this intensive course is to provide the respective professional groups with the knowledge they need to understand the "other side" and therefore to be able to think and act in an interdisciplinary way in future projects. Furthermore, throughout the course, participants discover the opportunities of different technologies, learn about the various tools of environmental management in connection with information technologies, and become aware of how to use them profitably in their company after completing the course.
Provider:

Die TUM Campus Heilbronn gGmbH

Academic Responsibility:

Prof. Dr. Helmut Krcmar

Certificate:

Certificate of attendance

Program fees:

€ 5,890
10% discount for für TUM alumni
Introductory offer up to 50% discount on program fees valid until December 1, 2023

Target group:

The course is designed for corporate environmental managers seeking a better understanding of digital processes and opportunities (e.g. for recording and measuring environmental impacts or energy efficiency), as well as IT personnel or consultants who deal with the sustainable and digital transformation of different business areas on a daily basis.

Requirements:

None

Language:

German
Sprache:

Deutsch

Studienort:

TUM Campus Heilbronn

Termine:

6. Dezember 2023 - 15. März 2024*

6. Dezember 2023: Kick-off Workshop
24. - 27. Januar 2024
22. - 24. Februar 2024
15. März 2024: Finale

*Programmstart und Termine unter Vorbehalt
*Unserer Erfahrung nach helfen Steuervergünstigungen in Deutschland vielen unserer Programmteilnehmenden, ihre Ausbildung zu finanzieren, da diese bis zu 50 % der Studiengebühren und programmbezogenen Reisekosten in der Steuererklärung angeben können. Bitte sprechen Sie mit Ihren Steuerberater*innen für eine Einschätzung Ihrer Situation. Für Teilnehmende unserer Programme, die ihren Wohnsitz außerhalb Deutschlands haben, kann dies ebenfalls zutreffen, bitte klären Sie die Situation mit den lokalen Steuerbehörden.
Jetzt anmelden
At the state-of-the-art educational campus of the Dieter Schwarz Foundation in Heilbronn, excellent research and teaching meet the exciting, entrepreneurial challenges in one of Germany's most innovative regions. With its business faculty, the TUM School of Management, the renowned Technical University of Munich has been represented in the Heilbronn-Franken region since 2018. Research and teaching aim to build bridges between management and technology in a dynamic, international environment. Since 2020, research has been conducted at the Center of Digital Transformation and the Global Center for Family Enterprise on the key topics of managing digital transformation and family businesses.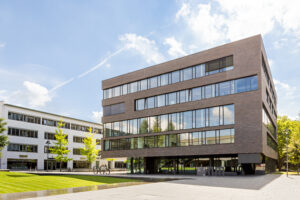 Are you interested in this certificate or similar programs? Stay up to date!