Apply now and learn more about quantitative tools for quality and productivity!
The TUM Institute of LifeLong Learning is offering the TUM Lean Six Sigma Yellow Belt Certification in cooperation with the TUM School of Management upon the successful completion of the edX Professional Certificate Program:
Six Sigma and Lean: Quantitative Tools for Quality and Productivity
This Professional Certificate is endorsed by Infineon Technologies and covers the fundamentals of the Six Sigma methodology and Lean Production for quality and productivity improvement, following the DMAIC (Define, Measure, Analyze, Improve, Control) process improvement cycle and examining how the principles of Lean production improve quality and productivity and enable organizational transformation. The material is based on the American Society for Quality Body of Knowledge up to a Green Belt Level. The course is designed as preparation for taking a Green Belt exam.
The edX Professional Certificate consists of three courses:
Each course is offered separately through edX.
This will be provided as a separate certificate by the TUM Executive & Professional Education and indicates a mastery of Six Sigma and Lean to a Yellow Belt level.
Enroll now!
Are you interested in this certificate or similar programs? Stay up to date!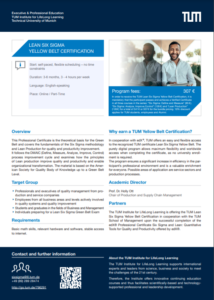 Download Fact Sheet
Start of MOOC Courses:

For starting dates please click the following link: https://www.edx.org/professional-certificate/six-sigma-lean-quantitative-tools

Registration Deadline:

There are no registration deadlines, enrollments are possible at any time of the year.

Payment:

During application on the platform for a verified certificate

Certificate:

Technical University of Munich Lean Six Sigma Yellow Belt Certification

Academic Responsibility:

Prof. Dr. Martin Grunow
Prof. Dr. Holly Ott

Degree:

Lean Six Sigma Yellow Belt Certification

Requirements:

Basic math skills.
Relevant hardware and software, stable access to internet.

Additional requirements:

Continuous participation of all three online courses with a passing grade and the required payment for the edX Verified Certificate of around 338 € (app. 356 USD).

Target group:

- Professionals and executives of quality management from production and service companies.

- Employees from all business areas and levels actively involved in quality systems and quality improvement.

- Individuals preparing for a Lean Six Sigma Green Belt Exam.

Fourmat:

Online, self-paced
Duration:

Three consecutive edX courses:
- Six Sigma: Define and Measure
- Six Sigma: Analyze, Improve, Control
- Lean Production
Each course has a duration of 8 weeks (3-4 hours per week).
For detailed information (starting dates etc.) please click the following link: https://www.edx.org/professional-certificate/six-sigma-lean-quantitative-tools

Program language:

English

Program Fee:

In order to receive the TUM Lean Six Sigma Yellow Belt Certification, it is mandatory that the participant passes and achieves a Verified Certificate in ALL THREE courses:
- "Six Sigma: Define and Measure" (94 €),
- "Six Sigma: Analyze, Improve, Control" (141 €), and
- "Lean Production" (141 €)

Discounts:

- 10% when buying all three courses in a package
- 20% discount for TUM students, employees and Alumni
- Discounts could not be combined


Please note:

PRICE MAY VARY DUE TO GLOBAL CURRENCY FLUCTUATION.
DEFINE: Charter Review – Definition of the product, its demands, attributes and its problems
MEASURE: Process Mapping, C&E Review, identification of negative influences, Data Collection Plan & Hypothesis Building
ANALYZE: Graphical Analyses, Process Capability, Hypothesis testing (t-test, F-test, ANOVA, Correlation and Regression), Root Cause Analysis
IMPROVE: Classical Solution Development; Solution Design: DOE, FMEA
CONTROL: Control Charts: I/MR, X-bar/S, p-Chart, Process Management Plan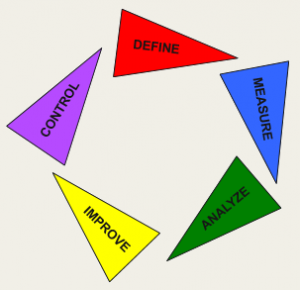 Course 1: Define and Measure
In the first course, Six Sigma: Define and Measure, we discuss what "Quality" means and introduce the five steps of the DMAIC process improvement flow used in Six-Sigma: Define, Measure, Analyse, Improve and Control.
Learn how to identify the Voice of the Customer and define our improvement project goal, setting targets for process yield and evaluating the cost benefits. We map our process flow and introduce the necessary statistical techniques to establish the baseline performance of our process and the process capability.
Understand how to use statistical sampling for the subsequent data collection and cover the basics of a Measurement System Analysis. In this first course, we also review the descriptive statistical techniques to present our data clearly to the project teams.
Course 2: Six Sigma: Analyse, Improve, Control 
In the second course, Six Sigma: Analyse, Improve, Control, we analyse our collected data using inferential and review techniques for root cause analysis.
Perform correlation and regression analyses in order to confirm the root cause and understand how to improve our process and plan designed experiments. We implement statistical process using control charts and how to use quality management tools for reducing risk and managing process deviations.
Course 3: Lean Production
In the third course, Lean Production, we look at the fundamental relationship between inventory, cycle time and low rate and analyse our process capacity. Calculate the impact of defects and rework on our process capacity. From a managerial perspective, the main tenets of the Toyota Production System are covered, reviewing the complementing aspects of Just-in-Time manufacturing and Quality Management, and discussing the key organisational requirements for lean production, including key metrics for both operational and financial performance.
Do you have any further questions?
During our individualized consultations, our Program Manager will answer all of your program related questions. Benefit from an online one-to-one consultation and book your slot now.
Book an appointment